Roman Catholic Church
(Markt 22) In 1577, during the Reformation, the great church switched to Protestant hands. It was not until 1795 that permission was given for Roman masses to be held again in Tholen. These were first held in a house in Dalemsestraat.In 1818, the Catholics bought the old Walloon church (the medieval meat hall). This old church was demolished at the end of the 19th century, and a new one was built in the same place, in neo-Gothic style. This Our Lady of the Assumption Church was consecrated by the Bishop of Haarlem on 19 November 1900.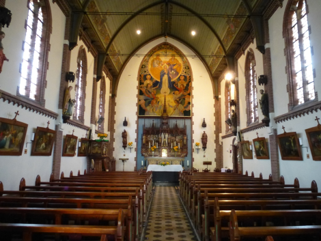 City hall
(Hoogstraat 12) The town of Tholen came into being in the first half of the 13th century. The village was granted city rights in 1366. In 1452, Tholen was hit by a large city fire. Around 1460, construction of the new 'scepenhuus' (town hall) started. The first chimes consisted of 14 bells; nowadays 37 bells hang in the town hall tower, the oldest of which dates from 1458.  The town hall contained a number of rooms: the Vierschaar (court room); the Politiekamer (police room) and the Weeskamer (orphans' room).  After the municipal redivision in 1971, its function as a town hall came to an end. The platform in front of the town hall was designed in 1758 according to a design by Nicolaas Muts, who also designed the city pump.